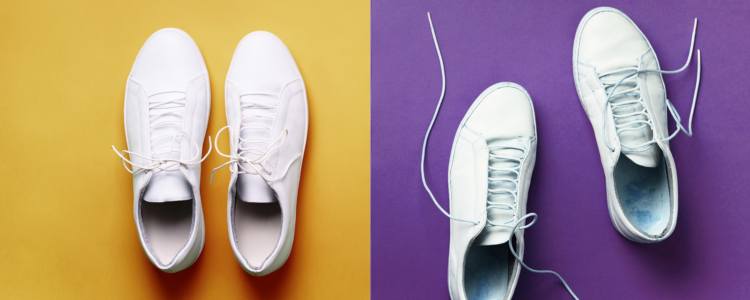 How to bring back our well-worn sneakers after walks, bike rides, and other sports activities?
In this article, we'll share our tips and tricks for getting your sneakers looking like new again for back-to-school season. First, remove the laces from your sneakers. We'll start by cleaning the sneakers and finish with the laces.
The sole is often the most damaged part of the shoe. To clean it, it's as simple as using a cloth and Marseille soap. Rub your shoes with the cloth that has been pre-soaked in Marseille soap. Then rinse the sole with water and the effect will be immediate.
Do your sneakers have suede?
Here's what we suggest. Put a little white vinegar on the suede stains and brush the surface with a small brush (e.g. a toothbrush). Then sprinkle some talcum powder to remove the moisture, and your suede will look brand new!
If you want to put your shoes in the washing machine, here's what you need to do. Obviously, you should not put leather or suede shoes in the machine. Remove the laces and insoles before putting them in the machine. Don't put your shoes alone in the machine for ecological reasons and to avoid damaging the machine. A helpful tip is to wash them with delicate laundry.
Don't know which program to use for your shoes?
Ideally, clean them at 30° while selecting between 400 and 800 rotations per minute. You can air dry them or use the dryer on a delicate cycle.
Let's tackle the laces, the last step in this cleaning process.
Use your hands or a toothbrush to remove mud and excess dirt.
Mix hot water with Marseille soap.
Soak the laces in this mixture, scrub them, and then rinse them. If they are leather laces, avoid washing them with water.
P.S. Avoid bleach at all costs, which can cause yellow stains on your laces!
We hope that our tips will give your sneakers a second life.